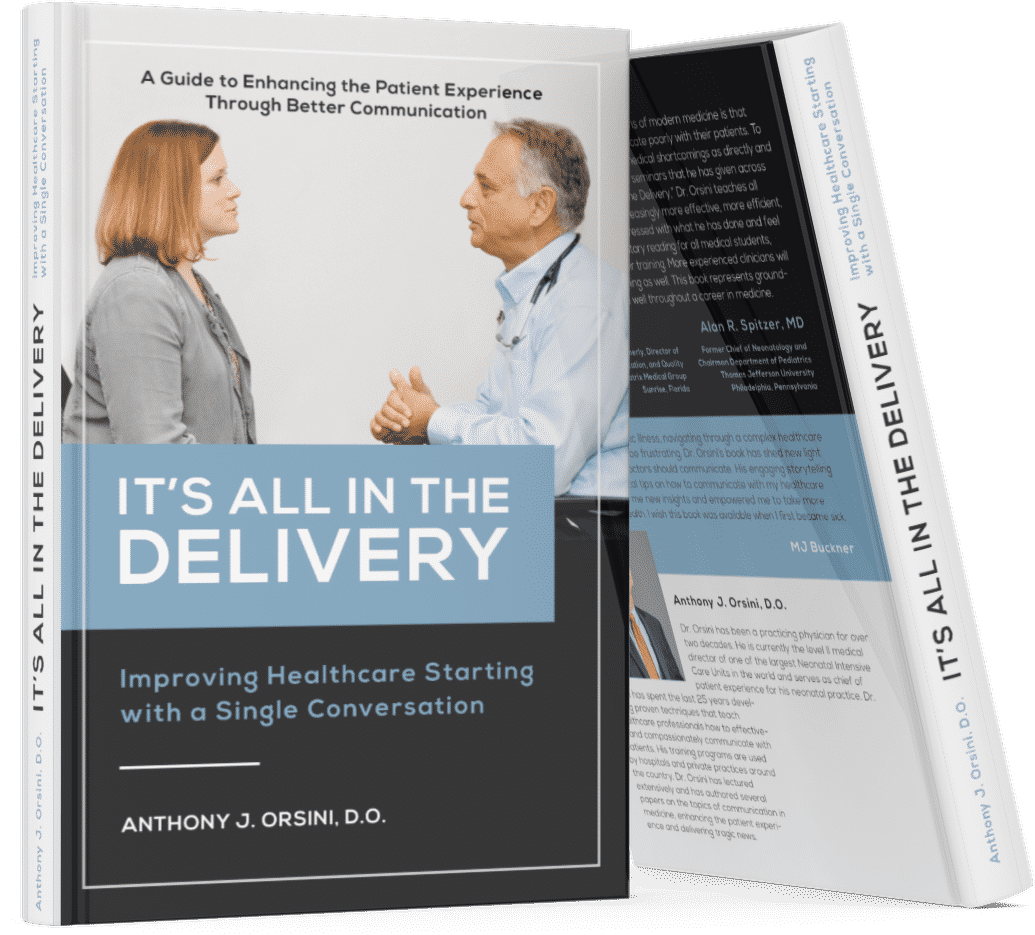 Improving Healthcare Starting With a Single Conversation
Based on decades of research, practical experience and interviews with real patients, Dr. Orsini uses his unique storytelling skills to provide practical communication techniques that help medical providers quickly build rapport and form relationships with patients and families even in the most difficult times. For readers of Danielle Ofri and Atul Gawande, It's All in the Delivery is an essential read for both healthcare providers and patients.
"Dr. Orsini's book makes an outstanding case for the need for compassionate communication in healthcare. This book was a real eye opener. I had no idea that the Joint Commission estimates that up to 80% of medical errors are attributable to poor communication, and 71% of malpractice lawsuits are as well. If there's ever a book or trainer you need to teach your medical staff about the importance of clear and empathic communication and how to do it the right way, look no further than to Dr. Orsini and this wonderfully written book."
Paul Falcone
Author

"While people in healthcare have some of the toughest conversations a human can have they still are very difficult; sitting down to let a family know their new born child is in danger or even at times that their child has died. Due to his years of experience, Dr. Orsini has learned ways to help providers deliver such messages. His approach with patients and families can be adapted to the difficult conversations that take place everywhere in every situation. From leader to leader, leader to staff member, staff member to staff member having the skill to provide difficult information is a skill we all need. Having spent decades working with organization on skill development, the number one request is how can you help us with difficult conversations? The book, It's All in the Delivery" lays out in a practical manner how to have these important conversations. It is a book every person whose in their job and life have difficult conversations will benefit from."
Quint Studer
Founder of The Studer Group
"One of the greatest and most common criticisms of modern medicine is that physicians and health care providers communicate poorly with their patients. To my mind, no one has ever addressed these medical shortcomings as directly and as clearly as Anthony Orsini, D.O. In both the seminars that he has given across the country and now in his book, "It's All in the Delivery," Dr. Orsini teaches all health care providers how to become increasingly more effective, more efficient, and more thoughtful in their dealings with patients. I am incredibly impressed with what he has done in this respect and feel strongly that his book should be mandatory reading for all medical students, nurses, and other providers during their training. More experienced clinicians will greatly benefit from Dr. Orsini's teaching as well. This book represents truly exceptional, groundbreaking work that will serve anyone well throughout a career in medicine."
Alan R. Spitzer, MD
MD Formerly, Director of Research, Education, and Quality MEDNAX, Inc./ Pediatrix Medical Group Sunrise, Florida Former Chief of Neonatology and Chairman Department of Pediatrics Thomas Jefferson University Philadelphia, Pennsylvania