Pediatric Residents Simulate Tragedy to Learn Compassion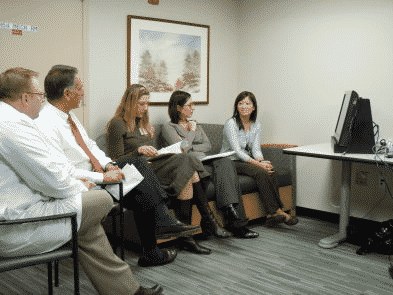 First published in New Jersey Spotlight News | January 17, 2012 | HEALTH CARE| by BETH FITZGERALD 
It's every doctor's nightmare. And every parent's. Five year-old Billy had been airlifted to the hospital after nearly drowning. Now, pediatric resident Albert O. Antonio had to tell Billy's mother and father that their son had suffered serious brain damage.
But the scene at Morristown Medical Center was a simulation rather than a real encounter. Actors playing the parents wept, prayed, and frantically sought answers from Antonio, who occupied center stage — hoping to learn how to deliver deeply distressing news.
Antonio's performance was videotaped. Afterward, the first-year resident watched it with three doctors on the staff of Morristown Medical and its Goryeb Children's Hospital, who offered their critiques. Avoid medical jargon. Reassure the parents that they did their best to give Billy first aid. Show empathy and compassion.
Antonio said that while at medical school at the University of Medicine and Dentistry of New Jersey, he got some training delivering bad news to actors playing the roles of parents. But this was the first time he'd watched himself on videotape, breaking bad news.
"This is great, being able to see what I do wrong, and what things I can improve," he said. When talking to parents about their gravely ill child, the challenge "is to hold your tongue" and listen, he said. "As doctors, we're trained to spit out information and we're supposed to have all the answers. But at this point, it's not really about supplying answers; it is about giving [parents] what they need." The doctor must tell the parents the hard truth about their child's medical condition, "and delivering the truth takes time. You have to give parents time."
Dr. Anthony Orsini, a neonatologist at Morristown, launched the program in November for the medical center's 34 pediatric residents. Eventually, he hopes to expand it to internal medicine and surgery. To determine the most efficacious way to deliver the information, different combinations of role playing and lectures are being tried with different groups.
Each videotaped session, plus feedback, takes 45 minutes, and the residents also attend four hours of lectures. This represents a serious time commitment, "but how you communicate with families, how you break bad news, is one of the most important thing you are going to learn" Orsini said.
"Families will tell you 10, 20, 30 years down the line about the experience they had when they found out their son had cancer. And how the doctor handled it affects how the family copes in the future." If the news is delivered badly, "it is very traumatizing, and parents can really carry this for the rest of their lives."
Jersey Shore University Medical Center has used actors to help train pediatric residents for about two years, according to Paul M. Schwartzberg, program director, pediatric residency. The conversations aren't videotaped, but Schwartzberg said he has just applied for a grant to fund a program to videotape the sessions with actors and post them online for the staff to access.
Schwartzberg also cautions against the overuse of medical lingo, that explanations are delivered in a way "parents can understand." He adds, "You can't tell how someone communicates until you see them communicate."
Using actors "allows us to actually watch residents talk to the parents. We see how they communicate and how they deal with confrontation," said Schwartzberg. And using actors, "allows us to recreate scenarios that we don't necessarily think [residents] should learn on the job."