Difficult Conversations Podcast
Lessons I Learned as an ICU Physician
Episode 133 | March 2, 2021
Difficult Conversations In The NICU
Neonatal/Perinatal Physician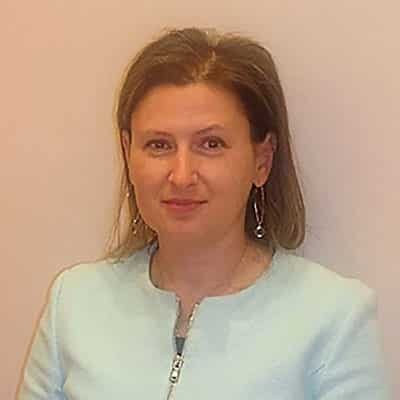 Welcome to the Difficult Conversations with Dr. Anthony Orsini. Today, my special guest is Dr. Vita Boyar, Assistant Professor of Pediatrics at Zucker School of Medicine at Hofstra University. She is a board-certified Neonatologist Associate Medical Director of the Neonatal Intensive Care Unit and is a Certified Wound Specialist Physician at Cohen Children's Medical Center. She is the only Wound Certified Neonatologist in the country. Her work with neonatal and wound products has been featured on Good Morning America, published in various journals, and has received awards and honors. Her teaching style and dedication to compassionate care led her to her nomination and completion of Humanistic Mentoring Fellowship Program at Zucker School of Medicine at Hofstra. In 2018, she was honored with Queens Ambassador Award for exceptional contribution to the community in the professional field.
Dr. Boyar tells us about her journey to becoming a Neonatologist and a Wound Physician. She describes herself as an "adventure junkie". She tells us how she navigates through the difficult conversation when with a mother of a premature baby who may need to go home on a ventilator. She shares a great story from a former psychology teacher's lecture. Dr. Orsini talks about the importance of active listening and medical error advice. Dr. Boyar shares advice on discussing medical errors. We learn how Dr. Boyar teaches her residents about communication, which involves balance, and why showing them how to do something is the best way to teach them. We hear stories from Dr. Orsini and Dr. Boyar on communication techniques they use in medical, business, and personal life. Dr. Boyar talks about how during COVID-19, physicians have been under so much stress and how communication is so important now more than ever to prevent burnout. Dr. Orsini tells a story about body language, signs, and makes a point by saying, "Communication is a lifelong learning process." If you enjoyed this podcast, please hit the subscribe button to find out more about what we do and how we teach communication. Go ahead and download this episode now!
Dr. Vita Boyar (2s):
I think as a novice people are often afraid to admit that something went wrong. We gave the wrong medicine, or you gave the wrong breastmilk the IV extravasation happened and the baby has a wound. Now I think they have to be able to acknowledge this has happened. And you can say, I'm sorry that this has happened to the child. People are afraid to say, I'm sorry, I'm sorry that you as a parent are going through the angst of being worried about this process. Saying sorry is not accepting the blame, saying sorry is not saying that something is wrong. To me saying sorry and acknowledging that they are worried about it is being on the same level with them, making them feel as a part of a team and have knowledge of what they're going to do is valid.
Announcer (47s):
Welcome to Difficult Conversations: Lessons I learned as an ICU physician with Dr Anthony Orsini. Dr. Orsini is a practicing physician and president and CEO of The Orsini Way. As a frequent keynote speaker and author, Dr Orsini has been training healthcare professionals and business leaders how to navigate through the most difficult dialogues. Each week you will hear inspiring interviews with experts in their field who tell their story and provide practical advice on how to effectively communicate. Whether you are a doctor faced with giving a patient bad news, a business leader who wants to get the most out of his or her team members or someone who just wants to learn to communicate better this is the podcast for you.
Dr. Anthony Orsini (1m 32s):
This episode is being sponsored by Veritus. Veritus offers virtual alcohol, drugs, and trauma treatment programs exclusively for licensed medical professionals. Their programs provide a concierge level of care consisting of evidence-based clinical treatment, and they are customized to meet the unique needs and challenges of physicians, dentists, pharmacists and nurses struggling with substance abuse. Their virtual confidential platform provides a safety and security medical professionals need to get help while continuing to work. Confidential, convenient, and compassionate, Veritus brings world-class treatment to your home or office. Beginning of March 9th, Veritus will be launching a free CME substance abuse webinar series for the medical community.
Dr. Anthony Orsini (2m 16s):
This CME webinar series will bring together experts for a panel discussions. What the future has in store in a post COVID world helping physicians who are struggling with substance abuse. This is an event that you do not want to miss. You can register for this free CME webinars at www.Veritussolutions.com. Today, I want to introduce to you or another amazing guest today. I had the honor to introduce you to Dr. Vita Boyar. Dr. Vita Boyar and Assistant Professor of Pediatrics at Zucker School of Medicine at Hofstra University She is a board certified Neonatologist Associate Medical Director of the Neonatal Intensive Care Unit and is a certified wound specialist physician practicing both neonatology and wound care at Cohen's children's medical center of New York Northwell health hospital system.
Dr. Anthony Orsini (3m 9s):
Dr. Boyer is the only Wound Certified Neonatologist in the country and develop Northwell Neonatal Wound service. The only one of its kind in the area. Her work with neonatal and wound products has been featured on Good Morning America published in various journals and has received awards and honors. Her teaching style and dedication to compassionate care led her to her nomination and completion of the humanistic mentoring fellowship program at the Zucker school of medicine at Hofstra and in 2018, she was honored with Queens Ambassador award for exceptional contribution to the community and the professional field. Born in Eastern Europe she came to us during our high school careers, and that attended college in North Carolina.
Dr. Anthony Orsini (3m 50s):
She's stayed in North Carolina, graduated medical school at the prestigious University of North Carolina Chapel Hill and then she made her way to New York where she completed her a pediatric residency and fellowship. Dr. Vita Boyar is a reviewer for various medical journals. She is a member of the society for pediatric research and has published extensively in various medical journals herself. Well welcome, Dr. Boyar and we're so honored to have you here. I think you and I met, I think, a lot about a month or two ago through LinkedIn, I believe correct?
Dr. Vita Boyar (4m 20s):
Yes Tony. Well, first of all, thank you for the kind introduction we have met and it was Linkedin actually, and I came across your podcast by actually looking into the one of my previous colleagues from the pediatric residency that you have interviewed as well. And I was just really at the discussion that you had and they reached out to you and I just wanted to say, Hey, I said this is so great and this is so useful for other people to hear and different aspects of what a difficult conversation might have been a medical and personal life.
Dr. Anthony Orsini (4m 50s):
You know, we had that conversation, we had a quick call and you and I had such a flow of conversation, which happens, you know, every now and then when we have a lot of common, both be in Neonatologist. But then we started talking about my favorite topic Difficult Conversations and I knew right away that you would be a great guest on our podcast. So I kind of grabbed you right there and said, please come on in. And you were gracious enough with your time. So I wanna thank you again. And we're going to discuss all of that. You know what I make two promises to my audience in every week in that is one to be inspired and two, to learn something about how to have difficult conversations. And we're going to talk about both of those things and I'm sure I'll keep my promise today. But first I usually like to start out with just getting the audience to know about you.
Dr. Anthony Orsini (5m 36s):
So who is Vita Boyar. Do you have an incredible story coming from Eastern Europe and how you ended up in New York, long Island? Correct. And so I just want them to find out who the Vita Boyar is it, tell us a little about your professional and what excites you. And I also noticed too, that you have some very cool hobbies and call yourself at adventure junkie, but tell me all about Vita.
Dr. Vita Boyar (5m 56s):
Sure I see from the professional stand point, as you said it, I practice neonatology in long Island, outside of New York at the level four neonatal intensive care unit. And I think that was my first professional passion. You know, as I went through my pediatrics residency, I always knew I wanted to work with children. And my first year that I realized the taking care of the premature and vulnerable babies, having an approach to the patient as a whole and not just ne organ, is important and also a thrill and the excitement of seeing them do better having an inability, to do procedures, collaborate different sub-specialties is what made me wanna be a neonatologist.
Dr. Vita Boyar (6m 38s):
So I think first and foremost, I identify as that. I enjoy teaching, I enjoy a collaboration and this is why I've stayed for all of these years in our institutions. It's an academic institution. They have fellows, we have residents. So in a big part of my day is not just clinical care is actually teaching the residents how to interact with patients, teaching them how we can talk to parents, collaborating this consulting physicians. You want me to think, I identify myself from the professional and point as a Wound Physician as well. This passion came early in my career as a Neonatologist. My early interest were in respiratory care and respiratory kids, and then realized that a lot of our, neonatal babies have very fragile skin and many had skin injures and all of them had surgeries and nothing could have been done, but others were caused by us by the hospital, the equipment by taking care of the really fragile premature or a tiny babies, actually statistic's is very important to know about 30- 40% of small kids in the NICU have injuries and about 8% of them left as a scar.
Dr. Vita Boyar (7m 46s):
And so when I started this, I realized that I would look around and ask my colleagues, how do I treat this? So how do I enhance this more out there? How do I help these to heal faster? Let's say, or a baby who is 500 grams in twenty-four weeks. They've had a really good answers at that time. And so I think I'm a curious person. And I think I like the challenge. As soon as the beginning of a challenge, I want you to just figure it out for myself. I thought there would be a better way to approach this. And even if there wasn't a better way to have to know what's out there, what needs to be developed, what needs to be taught. Then I decided to certify in the adult specialty and I reached out around the country and asked multiple nurses and other physicians help me tell me, is there a guidelines?
Dr. Vita Boyar (8m 30s):
Is there something you could share? And unfortunately there was no who was interested in sharing this. And so I proceeded was doing my clinical and academic and going through the specialty and became the first. And so it was the only one that I think I was the first wound certified Neonatologist in the country and went on to build our own neonatal wound service, as well as seeing too many pediatric patients throughout our hospital. So I think professionally, this is my second and ongoing passion. I combine both neonatology and wound care and that's really, it has been a great ride. Personally. I am a mom, I would say. And what I liked to do, one of my hobbies, I guess, one of my greatest joys in life is to travel myself, but it was my kid's.
Dr. Vita Boyar (9m 16s):
And I actually often combine my professional and personal interest in, in this unique field. And I have been lucky enough to be invited to travel to different countries, to present at different conferences and help in difference NICUS, how to build a skin teams and then at the same time in taking opportunity to take my kids with me. As a neonatologist you are very busy, it's a lot of call, it's a lot of work and it's often very difficult to find a balance as a mom and as a professional. And so that's sort of, what does the two combined.
Dr. Anthony Orsini (9m 48s):
So you describe yourself at one point I heard you say you were an adventure junkie. What does that mean? Where do you like to do? I know you're a football mom and you played tennis. My family all played football. So we had that in common, but when you say adventure junkie, what do you like to do?
Dr. Vita Boyar (10m 6s):
Well, we traveled, if you find interesting activities, is that some of them, but I would say in my own personal adventure, it doesn't necessarily go well, you know, and I sort of dragged my kids. And as sometimes we swim is the shark's and, you know, I'd tell my family later if we had done that. And when we traveled to Australia, find their highest Sydney bridge, just walking on the edge of it. And I have flying the the highest Alaska mountain on the glacier. And it seems like that, you know, it wasn't too extreme, but at the same time, interesting thing to do.
Dr. Anthony Orsini (10m 39s):
That's great. And we have to have that work life balance, which is so hard. Most people might not know this with listening, but neonatologists are different. We'd like to small challenges. That's why you think we picked the little babies and we tend to be into an adventure. Also, your story struck me as you were talking about it, when you are trying to find some information about wound care and didn't find any, it really paralleled what happened to me when I was in a Neonatal fellow and I was seeking help for people to tell me how to have difficult conversations. And I was asking people, please tell me how to tell a mother that their baby suffered severe brain injury.
Dr. Anthony Orsini (11m 19s):
And the answers that I got mostly where, well, this is how I do it, but I don't know if that's right. I was told things like, just say it faster and get it over with really bad advice. And then I did a very similar to what you did. I looked through the literature have found nothing. That was just like you, I had to seek it out. And in my instance, it was just interviewing parents and family members who have heard bad news. So I certainly identify with that. And you're a trailblazer. And then you're right. I do find that there are a lot of skin problems in the NICU and having as somebody who is a Neonatologist that can do that is awesome. This episode is about Difficult Conversations. I want to move over to that. And you and I had discussions about you're also the director of the NICU and in our neonatal intensive care unit, for those people in the audience who are not in Medicine, there are babies that are born very prematurely around one lb, and they sometimes spend over a hundred days in the NICU and even more so not many, but some of those babies go home on ventilators and tracheostomies.
Dr. Anthony Orsini (12m 22s):
And those can be the most difficult conversations I think, to have with a family other than your baby's dying or passing away, but they are very hard to navigate. You and I talked a little bit about this, but how do you navigate through that conversation that you need to speak to the mother with was we call it a family meeting and try to navigate through that. This is what's the realistic aspect of what's going on, and baby might need to go home on a ventilator, et cetera. Tell us how you do that and give us some advice. If you don't mind.
Dr. Vita Boyar (12m 55s):
I think this is one of the most difficult part of the NICU. You can sort of have this conversation that doesn't happen abruptly, but then you can have this prolonged States. In a bunch of babies you can have somebody who is about eight months old, who is now in our unit, going to digress for it, like 30 seconds. I don't remember one time watching the lecture, a psychology teacher who raised a glass or above her head, sort of held him for a while in that students how heavy it is. And the students throw in, you know, five ozs or three ozs is sort of now and then she said, yes, that's true, but it's not about that. About the perception. If you hold it for a minute, this is not heavy. If you hold it for an hour or you can sort of hurts, if you hold that for a day, you'll want to drop it because you are in pain.
Dr. Vita Boyar (13m 35s):
If you hold it up in a longer, it becomes a constant in your life that you will never be able to move on and do anything else until you resolve how to do this? This is babies who are in a NICU for a long time. This baby is chronic lung. It's like that. It's a good parallel lives. If you're in a NICU for a week and its tough, you can manage it. If you are in the NICU for a month and you still see that life in the end of the tunnel? And if you are there for so many months and you have so many ups and downs, this is when it gets emotional. And so hard and so draining. And so the way that we should speak to you, the families, it should be based on that. If you have to understand that they are there for a long haul, it's not a sprint, it's an marathon.
Dr. Vita Boyar (14m 20s):
And so I think initially when you start your conversation, you build the rapport as a Physician, as a scientist, you're tell them what the baby has. This is what it will be going on. But at the time passed us. I think you have to step out of being in this physician. You have to put yourself in a situation of relating on a personal level. You have to relate and then you have to somehow connect. And that is a perception of you as the human being by the parents is what's going to help you. You too have a successful conversations. I guess they call it. I think there was a bunch of tactical empathy. Empathy is not feeling sorry for somebody it is being able to understand the person who are sitting across from you.
Dr. Vita Boyar (15m 2s):
You find yourself in that person's shoes and not seeing what they think is right or wrong, but trying to understand what is it that is important to them? How are they feel about some of them and what is it that you can do to help? So when I have this conversation, because these families and it happens more than once, that's what I do I try to sort of update them. This is where we are. And then explain that this is what's happening to the child, this is what they are faced with and this is what might be a potential outcome. Then you have to move on and you have to see where do you stand as a parent? Do you understand what they are telling you? What might come from this?
Dr. Vita Boyar (15m 42s):
And what would you like to see? What are you hoping for? You have to hear their side as well. But as far as the basic advice, I think a lot of the newly practiced, Physician have a fear of having a difficult conversation there afraid that the parent's might be angry and often they are. They are afraid that showing any emotion is not the right thing to do, which is often not taught in medical schools. So there's a lot of mnemonics actually I think are out there. What they can help you. And I guess if you, important points to talk about is setting. You want to make sure that you speak to as a family and say, I would like to have a meeting with you. What is a good time for you to come? Is there a family member is that they can come and support you in this time.
Dr. Vita Boyar (16m 22s):
And so we usually try and set a time aside in the common areas is the family member or maybe the social work, at least in my practice. Usually they have support that it's calm it's quieter. My phone is off. We sit down and we can have a face-to-face conversation where nobody feels that they are being hurried. And you would just sort of on this side of the conversation, it's a conversation have to be determined. They have to be in as a purpose. And then I think you have to put it in perspective while you are here. You have to send the stage. And that usually like to give it a little bit of an overview, which has happened today or what has happened in the last week. And this is where the challenges are. And if the patient is not doing well and we train, you have our babies who have chronic lung disease, or maybe the neurologic problems, you tell them what are you doing and what the outcomes are.
Dr. Vita Boyar (17m 11s):
And if things are not great, you can say, Oh, I wish there was a feeling better. I wish we could go off on a ventilator settings, but you are still trying to do a everything we can, then you ask the parents to have their turn to summarize. What does they understand? What are they hoping for? What are they wishin for, is there something that we can do for them? Because over many months they are part of the story as much as a child,
Dr. Anthony Orsini (17m 37s):
Right? I think that's really important. And there are different acronyms out there in my book, it's on the Delivery I've developed an acronym called Program the take home points of what you just said. It is so important. It is about active listening. I've trained thousands of thousands of doctors on how to break bad news. We do videotape improvisational role playing. And when I review their tape with them, I'll ask them, what was your main goal in this conversation? And the most common answer is give information. And I kind of just have heartedly and kind of jokingly say there, why didn't you just handle it or a piece of paper? And the young doctors will just realize that it's not about information. It's about what you had said.
Dr. Anthony Orsini (18m 17s):
It is about forming that bond with them and listening to what you were describing. So well, it was really what people call active listening. Right? And, and I think sometimes we don't do that. The other thing that I thought that was great, that you mentioned was about this being a marathon and in the NICU it gets to you, right? I love that, that example of holding the glass up. So there's parents that come in that are the sweetest loving parents and they are just being frustrated. I mean, they maybe had a little bit of setback and we have to do as a group, even though we're tired. And we were working really fast trying to put ourselves in their shoes and saying, okay, so they yell at, and they act it a little irrationally, but you don't blame them.
Dr. Anthony Orsini (19m 1s):
That glass is getting awfully heavy. Right. So I think that's really, really great advice for them. And then there's also a medical error advice, but I just thought of it because some of the problem's in the NICU, which you talked about for wound care, as you mentioned, very clearly, some of those are <inaudible> as we say, or they come from the treatment. So I, the infiltrations people in their art in medicine, or NICU the IV catheters we put in these babies are often bigger than their veins. And so sometimes they get infiltrates in wound care and that could be the source of a lot of anger. And it sounds like you're the one often that has to discuss with the parents, that there may be, may have a scar and you're doing it.
Dr. Anthony Orsini (19m 42s):
And so any different or a different advice you can give when you're discussing something that went wrong, because things do go wrong in Medicine.
Dr. Vita Boyar (19m 51s):
I think as a novice people are often afraid to admit that something went wrong, gave a wrong Medicine you gave the wrong breast milk. Did it happen? And the baby has a wound. Now think we have to be able to acknowledge that this has happened. And you can say, I'm sorry that this has happened tothe child. People who are afraid to say, I'm sorry, I'm sorry that you are as a parent going through the angst of being worried about this process saying sorry, it is not accepting the blame. Saying sorry is not saying that I did anything wrong, to me saying sorry is acknowledging that they are worried about it. It Is being on the same level with them, making them feel as a part of a team and acknowledge that what they're going through is valid.
Dr. Vita Boyar (20m 32s):
And then you have to say what happened in a simple way. Most of our families who are not medical people and explain what does it been willing to do about this? This is what happens when they transition occurs. And this is a treatment and I going to start on a new baby and I'm going to do to make sure that the skin heals well. So that's one example is simple. The one, but I think are really angry, often brushing injuries from devices or a surgical wounds that this test is often a list. If you have to stop away from the anger and you have to allow them to, then as I say, I hear that you are saying, I understand that is how you feel. And I wish that it didn't happen but it did.
Dr. Vita Boyar (21m 16s):
And we are going to do everything we can to make them feel better. So I think acknowledgement and connecting to the patient on this case as a parent on a personal level as well. I think it's not specifically the actual, so this is more of a as the chronic lung kid or a piece for it in the NICU for different reasons. I'll give you an example. Just recently I had the families was there. They admitted to the NICU. The baby was in the chronic facility on oxygen therapy and has failed us and needed to have a tracheostomy done. The tracheostomy had a really tough recovery for the week after. And mom and grandma came just really, really angry at the hospital and we will do this and this, and this is just very, very angry at this has happened to the child and we sat in a quiet room.
Dr. Vita Boyar (22m 3s):
And they told them what happened. And then on top of this the baby had an externalization. And Mom said, and now because of this the baby has an infection in her foot, and I said no the baby doesn't have an infection they have a very fragile veins. From the grandmother who's actually the dominant figure in this family said, Oh yeah, I have really fragile veins. Anytime I have to go for a blood draw they have to poke at me so many times I have bruises and they say, Oh, you know what me too. And it happens to me all the time and it's, you know, about, so this happened to my son. He fainted once and the rest, and we've talked about something else with a personal level. But at the moment I did this, her angry attitude, subsided and her warrior face softened, and we sort of connected to human interaction levels to blame anymore for somebody who understood what she was going through.
Dr. Vita Boyar (22m 54s):
So if you can do that as well as acknowledge and understand what happened and that you are going to try and make it better. So it was as the two key points in the interaction.
Dr. Anthony Orsini (23m 3s):
That's fantastic advice in, in my book, it's all in the delivery. I will go through the acronym Program for breaking bad news and also for a patient experience. And when we discuss conflict resolution, which is what you're speaking about, the G in Program is genuine. And so many times I'm put in a situation or maybe because that's what I do, or I enjoy it where it's Dr. Orsini, I'm glad you're here we have an angry parent and being a genuine person and saying, and you relate it to that grandmother. You said, my son has it too. I have it too. All of a sudden, you weren't this Dr. Vita Boyar. You were Dr. Vita Boyar, who also is a real person and right away and people in general, I can't tell you how many times I speak to the risk managers about medical errors.
Dr. Anthony Orsini (23m 48s):
And I've done some training at other hospitals about how to talk about medical errors and right now medicine is still far behind business in communication. And, and so there was a medical error and all of a sudden the risk manager wants to come in to the room with you two attorney's the charge nurse and you are walking in there with five people. And all of a sudden, the mother of the patient is looking at you and they are going something's really wrong. They are trying to hide something. Why are all these people here? When the best thing that you've said is have the doctor go in and say that they're sorry that this happened. And the patients want to know that your doing whatever you can do to help that and to prevent it from happening again. And the American bar association made a statement 10 years ago, that if you feel a relationship with your doctor, you're unlikely to Sue even if prompted to do so.
Dr. Anthony Orsini (24m 36s):
So even if a lawyer says, Hey, Tony, I think you should go sue the doctor, I would say, no, I really liked Dr. Boyar. I'm not doing that to her. It was an accident. And then it happened. And so it's the right thing to do. And this is why I love communication so much. I mean, you could really change the outcome of that. Look how much you made that grandmother feel better instantly. Oh almost like a premature baby is like me we both have fragile veins and I get it. And so that was, I really think that's awesome. So let's keep moving on to God, there's so many difficult conversations that we have. So now you're such a great communicator. You are teaching the students, the medical students, the residents, it's still not taught in medical school.
Dr. Anthony Orsini (25m 22s):
Very little is taught about communication. So how do you help? Do you bring them in a medical students? And I've said in other episodes before, sometimes I'll ask the resident, did you call the mother? And then I'll throw them off by saying, what did you say? And then they go, well, what, what, what do you do? And I said, I want you to know what you've said and So, or I'll say, Oh, go ahead and talk with the mother. And I'll stand at the back end. I'll go, well, you didn't sit down and you didn't, you know, there was a lot, he didn't do how much time do you spend going over communication with your residents and for other physicians who want to help them learn better? Communication, what's your advice.
Dr. Vita Boyar (25m 56s):
So you think you have to balance the fact that you've been worked on people and you're in the room and you give them some of the bad news. Sometimes I have done that. And specifically, when I came on the team, when we have residents, fellows and parents are often there and they try to update them, do an hour of clinical rounds. And so what I have found is sometimes they would tell the residents and sort of on this side and I pull up a chair and they sit next to their parents and they are there in the room. So it was like, you can observe, but they were really not visiting the active conversation, but then having the parents and they have this active conversation with his mom or Dad or both, and I asked them, I said, I would like to give you a update, how baby X is doing.
Dr. Vita Boyar (26m 38s):
We would now be a good time and you can use it now. And I think sometimes the best way to teach somebody how to do something well is to show it to them. With the residents and fellows, how to be empathetic, shows them how to deliver bad news, how to react to potentially a volatile or crying reaction. And hopefully as they can learn and get them to step out of the rooms, I will talk to them soon, too often, before we go into the room, I say, well, if a parent asked them, what would you say? And you have to understand your medical facts first and foremost, because we are in there as a physician, then you'd have to be prepared that you have to do our due diligence and all this.
Dr. Vita Boyar (27m 18s):
I always talk about it. Don't go into the room saying, Oh, let me get this. You know, Donny is a, not so much. Sure. You have to know. So always be prepared, but finding an appropriate settings, make sure that you understand his parents' perception. That's really, really important. The other thing that we pay a lot of attention to is attention to, is it's important what you say, but it's important how you say it. And it's in the body language. As well. Remember, years ago, I heard a lecture by actually an FBI person who usually does a negotiation and he said, it Seven three 65 rules. People pay attention, 70% of what you said, 35% to how you deliver and 55% from your body language.
Dr. Vita Boyar (27m 58s):
So it's important what you to say it, but how are you saying that could mean you have totally different meanings. If you are a sarcastic, if you are not genuine, if you go to them, if you hide, tell them exactly the same sentence in some totally different somebody's. If you look an interested in, if you have your phone next to you, when you're looking to the side, while you were given this bad news, does the family, they want to know you're not genuine and you really don't care when you just stay to give you the news and stuff like that. That's one of the big points that I want my fellows to understand, you really have to be present. And as you said, active listening, but also active engagement in the conversation.
Dr. Anthony Orsini (28m 33s):
In my book, that's why I called my book "It's all on the Delivery" because exactly what you say it's not what you say it's how you say it. If you're listening to this podcast, go back to my podcasts listen to the interview with Dr. Helen Riess. Helen Riess, is really the world expert on empathy. And we had a great conversation. Previously. She wrote a book called the "Empathy Effect" and how it affects us in every aspect of our lives, both their professional and our personal lives. And so this is Difficult Conversations. And so one of the things that I do when I try to train healthcare professionals, and now I'm going into businesses now, because it's the same communication techniques that help managers become real effective leaders and it doesn't have to be in medicine.
Dr. Anthony Orsini (29m 19s):
These are all Communication that way you talk about active listening, building relationships, building loyalties. These things are really very important in your private, any new professional life. And it also helps in things in marriage and it helps us build a rapport. And sometimes what I've learned through medicine I've really helped me with my marriage because it's all the same, right? It's about building relationships and listening to each other.
Dr. Vita Boyar (29m 42s):
You think it's all in a communication and while I think marriage is and taking care of the patients, that's for sure or have any children. That's another one. But yeah, I think active listening is not easy. I think when they listen, they are almost always sort of thinking ahead, hey, what am I going to answer? Or what would I say to that to respond and you almost thinking about their own experience. So I think it's really tough to step away from that mindset and just say, I'm just going to listen, hear what the other person says, you don't have to agree to this point of view. Why didn't you clean after yourself? Well, because I was busy doing that.
Dr. Vita Boyar (30m 23s):
So it's not the fact that maybe 12 or to, and she was wrong and why, and what happened to write to really hear somebody else's perspective. And they think that is the same in business and the management. What is the other person's point? What is his point of view? Again, you don't have to agree, but maybe it will make you understand what he/she coming from. And then you can bring your point of view from a different way.
Dr. Anthony Orsini (30m 48s):
And in business and every other week we tried to do business. In business using these communications techniques. If you want to ask your boss for a raise or a promotion, how do you go about doing that? If you have a problem with an employer, a teammate, instead of just being upfront with them and tell them here's the issue. If I'm giving you a bad progress report to a worker or a team member, or want that person to leave that room feeling that I disappointed Dr Orsini and I want to do better. You don't want that person to leave being angry. And these communication techniques work, especially during conflict resolution, even in my teenagers where I try to get to come home to visit their mother on Valentine's day or visit their Mother on their birthday.
Dr. Anthony Orsini (31m 30s):
It's tough to tell as a kid to do that. But if you do it right, as I say, you lead them to water and my son or daughter who will say that maybe I'll come visit mom too, is that I'm like, Oh, OK. So you just got to let them up to that. But that communication is wonderful. And with all of these episodes, this is why I'm so excited about this podcast because they just stack up on top of each other and each week we learned stuff from you that I relate to an interview that we had with Helen Riess are we, when we laid back to an interview that I had with Claude Silver, who is the chief heart officer of VaynerMedia and how we use empathy, compassion, relationships to get through our lives.
Dr. Anthony Orsini (32m 10s):
And for me, we just had Dr. Dike Drummond who is a, an expert in physician burnout. And we talked about when you're engaged with your job, when you're engaged with your patients, you talk so great about imagining and putting yourself in their place. You go home feeling better about your job. And I think you decrease your incidence of physician burnout. Would you agree to just go home feeling better?
Dr. Vita Boyar (32m 32s):
Oh, I agree. I did listen to the podcast. It was great actually and I can relate to it. It's not just a physician, but I think in the last six, seven months, this COVID and then a lot of the physicians are under so much stress and strain and in a NICU I mean they are always under stress or a stressful job via a and his life passed quite a bit or a visitor babies who have been in their chronic pain. So I think burnout it's really, really important is how do you prevent it? I think communication is actually a very, very important to me. Each of you have superiors and you know, itself is a really important, I think if you feel that what you do is valued. If you have spoken to you respectfully, if you are happy with your job, if you enjoy what you do that will lessen that burnout, even if you work many hours and even if you work for a really tough, and if you have a better communication with the nurse, the fellow physicians is the parents.
Dr. Vita Boyar (33m 30s):
I think mental burnout is even harder than physical. I think physicians, they are perfectionists or at least many of us and we are our biggest critics. And if you didn't do something well, if you didn't say something well, or if the conversation went really badly with your boss you are going to go home and you're going to perseverate about it and say, Oh, I could have done this and it could have done that. So I think stopping for a second, thinking about what does it, do you go on to say, how will you going to say is really important? And then in your personal life, sometimes they think they are angry or tired, or if you're stressed out, maybe stepping out for a minute where maybe sleeping on it for tonight and have that discussion to the next day.
Dr. Vita Boyar (34m 14s):
Same at work as a boss. If you have to give somebody a criticism or a suggestion think about how you are delivering it, not rolling your eyes, facial expressions can say so much, not being sarcastic, tone of voice. All of this, I think are a little tricks that can make somebody feel better and make or break in a relationship.
Dr. Anthony Orsini (34m 32s):
Yeah. And body language is so important and the message, that's why I call the book. It's all in the Delivery. When I do consultations and hospitals and we do a patient satisfaction programs that help them improve their patients' satisfaction scores. As we walk around in the hospital and we read the signs and after a few signs that we bring up or even the administrators start to chuckle and start to laugh. 'cause you see that person put that sign up there and it could have been worded so much better. It sounds like these are the rules and this is what you're supposed to do. And I showed a sign of three people standing up in my workshop, three people standing up at attention in a row holding briefcases and it says stand online.
Dr. Anthony Orsini (35m 14s):
And so we'll go over these signs and say, do you think there's a better way of saying it? You know? So, you know, we will be with you in a second, please wait here. And so after a while, people graduate from my workshops and I can't stop doing this either. I'll go to Walmart. And I looked at a sign and go, Oh my God, that sign is terrible. So it's the message. Communication is a lifelong learning process. I'm learning every week from people like you and from the other guests that I've had, even though I've taught thousands of thousands of people you constantly learn and you just add on top of it and stack on top of it and it affects every part of your life. And that's why I love doing this podcast so much.
Dr. Anthony Orsini (35m 56s):
And certainly my audience was inspired by you and you gave such great advice, but we still make mistakes. It's a lifelong learning. And back to what you talked about with the resident, sometimes I'll leave the room at the residents watching and I'll say I made a mistake. I said something that I should have said, what was it? And it's like a little game. They play in the car. You know what? Dr. Orsini you talked a little too fast or I always sit down. So I never make that mistake, but Helen, Riess talks about what you just mentioned. This empathy Effect slides up and down a part of our day are sometimes our day is bad or we're not doing well and maybe we need to wait until we've had a second alone before we go and have that difficult conversation. I think that's great advice.
Dr. Vita Boyar (36m 36s):
Yeah, absolutely. I think in a NICU, you know, at night it may have a patient pass away and yet you are expected to complete that task and go on and take care of the 50 other's. And so being in tune with yourself and if you need to step away for five minutes and being able to take the time to recollect yourself is very important.
Dr. Anthony Orsini (36m 58s):
Yes it is. I can't tell you how awesome of an episode this was. How informative this whole thing was if anyone wants to get in touch with you, they can do it through LinkedIn or email. How would they, if they wanna speak to you, how it was the best way to get in touch with?
Dr. Vita Boyar (37m 13s):
Yeah, absolutely. I am on LinkedIn and my email is VBoyer@northwell.edu or both will be totally fine.
Dr. Anthony Orsini (37m 18s):
And we'll put that all in the show notes. So everybody we'll have the links to that. Thank you again, if you like this episode, please hit subscribe by it. And we're available in Apple, Spotify, Amazon, and many others Google podcast. And you can go ahead and subscribe to get an automatic download. Don't forget to go back and listen to all of the other episodes. It's been great. If you want to know more about the Orsini Way you can contact me, doctor Dr.
Dr. Anthony Orsini (38m 13s):
Orsini @theOrsiniWay.Com, where you can just go to theOrsiniWay.com and get the contact lists. Thank you, Dr. Boyer. It was an absolute pleasure and I hope we will speak frequently. This has been great.
Dr. Vita Boyar (38m 26s):
Thank you for the invitation Tony it has been fantastic.
Dr. Anthony Orsini (38m 30s):
Thank you and have a good night call tonight. Thank you. Bye-bye this episode has been sponsored by Veritus. Veritus offers virtual alcohol and drugs and trauma treatment programs exclusively for licensed medical professionals. Their virtual confidential provides safety and security medical professionals need to get help while continuing to work confidential, convenient and compassionate, or does it brings world-class treatment to your home or office. Again, don't forget about their free webinar series. Beginning of March 9th, as CME webinars series will bring together experts for panel discussions or what the future has in store or in a post COVID world who are helping physicians who are struggling with substance abuse.
Dr. Anthony Orsini (39m 13s):
This is an event that you do not want to miss. You can register for this free CME webinar series at www dot Veritus solutions.com.
Announcer (39m 22s):
If you enjoyed this podcast, please hit the subscribe and leave a comment or review to contact Dr. Orsini and his team or to suggest guests for a future podcast visit us at the Orsini Way.Com.