Difficult Conversations Podcast
Lessons I Learned as an ICU Physician
Episode 146 | May 30, 2021
Ninth Secretary, U.S. Department of Veterans Affairs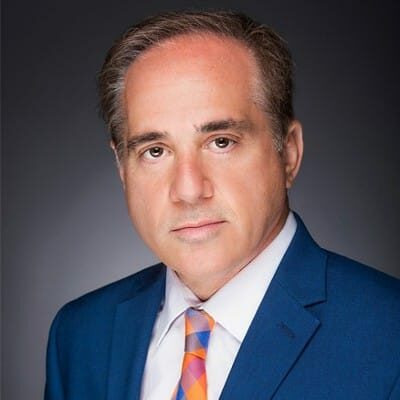 Welcome to a special Memorial Day Tribute of Difficult Conversations – Lessons I Learned as an ICU Physician. This week, we will pause and take a moment to honor the men and women who gave the ultimate sacrifice for our country and to also remember our commitment to all of those who have served. This week I chose to replay a previous interview with the Honorable Dr. David Shulkin, who was the 9th Secretary of the US Dept of Veteran Affairs. He was nominated by President Trump to serve his cabinet. Prior to serving as Secretary of the VA, he served as Under Secretary for Health under President Obama. Dr. Shulkin represented 21 million American veterans and was responsible for the nation's largest integrated healthcare system with over 1,200 sites of care, serving over 9 million Veterans. Prior to coming to the VA, Secretary Shulkin was a widely respected healthcare executive having served as Chief Executive of leading hospitals and health systems such as Beth Israel in New York City and Morristown Medical Center in New Jersey. His book, It Shouldn't Be This Hard to Serve Your Country: Our Broken Government and the Plight of Veterans. is one of the best books about our VA System ever written.
Dr. Orsini mentions his first encounter with Dr. Shulkin, and remembered how genuine, down to earth, extremely friendly, and very engaging he was. We find out what made Dr. Shulkin take the medicine path and what led him into the leadership role. Dr. Shulkin tells us the single most difficult conversation that he had, and he gives us advice on his approach to communicating bad news. There are so many problems with medical education training right now with communication, and Dr. Shulkin shares with us how we can fix this. Dr. Shulkin's dedication in his book impressed Dr. Orsini, and he talks about his dad, who was a psychiatrist on an Army base, and if he influenced him in any way. We learn about when he takes on his new position as Under Secretary at the VA in 2015, and what he realized he had in front of him with the wait time issues that were going on. Also, we find how he fixed the issue so quickly. Since he served with both Trump and Obama, we find out the game plan he had to navigate through the two different environments and succeed at it. Dr. Shulkin has been called the "Champion of Patient Experience " and he shares with us how he was able to start the Patient Experience Program at the VA. Telemedicine is discussed and whether or not it's here to stay or if we keep doing more and more Telemedicine, if we're going to miss that patient relationship.
Dr. David Shulkin (1s):
Well, I think this single most difficult conversations that I had were when I had to speak to family members,
wives, mothers, and fathers of Veterans that either sacrificed their life or had taken their own lives through
suicide and sitting down with people that clearly are not only deeply missing their loved one's, but continuing
to replay in their own mind if they could have done anything differently.
Dr. David Shulkin (38s):
And knowing that this was the many ways of failure of a system that I had responsibility for. Clearly were the
most difficult conversations that I ever had.
Announcer (50s):
Welcome to Difficult Conversations Lessons I learned as an ICU Physician with Dr. Anthony Orsini. Dr Orsini
is a practicing physician and the president and CEO of the Orsini Way. As a frequent keynote speaker and
author, Dr. Orsini has been training healthcare professionals and business leaders, how to navigate through
the most difficult dialogues. Each week, you will hear inspiring interviews with experts in their field who tell
their story and provide practical advice on how to effectively communicate.
Announcer (1m 22s):
Whether you are a doctor or faced with giving a patient bad news or a business leader who wants to get the
most out of his or her team members' or someone who just wants to learn to communicate better. This is the
podcast for you.
Dr. Anthony Orsini (1m 34s):
Well, welcome to another episode of Difficult Conversations: Lessons I learned as an ICU Physician. This is
Dr. Anthony Orsini and I will be your host today and every Tuesday moving forward. I know I say we have an
extra special guests every single week, but this time it is really incredible. Today I am so honored to have
with us the Honorable Dr. David J Shulkin. The honorable Dr. David Shulkin was the night Secretary of the
us department of veterans affairs.
Dr. Anthony Orsini (2m 4s):
Nominated by President Trump to serve his cabinet, Secretary Shulkin was confirmed by the US Senate by a
vote of 100 to zero. He was the only Trump's cabinet member to receive a unanimous confirmation. Prior to
serving as secretary of the VA , Dr. Shulkin served as the under secretary of health under President Obama,
for which he was also confirmed unanimously by the U S Senate. As Secretary Dr. Shulkin represented the
21 million American veterans and was responsible for the nation is the largest integrated health care system
with over 1200 sites of care, serving over 9 million veterans.
Dr. Anthony Orsini (2m 37s):
The VA is also the nation's largest provider of graduate medical education and major contributor of medical
research. It provides Veterans with disability payments, education through the GI bill, home loans, and even
runs a national cemetery system. Prior to coming to VA, Secretary Shulkin was a widely respected health
care executives having served as chief executives of leading hospitals and health systems, including Beth
Israel in New York city and Morristown medical center in Northern New Jersey.
Dr. Anthony Orsini (3m 7s):
And that's where I first met him. Secretary Shulkin has also held numerous physician leadership roles,
including the Chief Medical Officer at the University of Pennsylvania health system. The hospital at the
university of Pennsylvania, Temple University hospital and the medical college of Pennsylvania hospital.
Secretary Shulkin has held academic positions, including the chairman of medicine and vice Dean at Drexel
University school of medicine. Dr. Shulkin received his medical degree from the Medical College of
Pennsylvania, his internship at Yale University School of Medicine and a residency and fellowship in general
medicine at the University of Pittsburgh Presbyterian medical center.
Dr. Anthony Orsini (3m 45s):
He is board certified in internal medicine received and advanced training in outcomes, research and
economics as a Robert Wood Johnson foundation, clinical scholar at the University of Pennsylvania. Over
his career, his secretary Shulkin has been named as one of the top 100 physician leaders of hospitals and
health systems by Becker's hospital review. And one of the 50 most influential physician executives in the
Country by Modern Healthcare and Modern Physician. He has also previously been named 100 most
influential people in American Healthcare by Modern Healthcare.
Dr. Anthony Orsini (4m 44s):
Dr. Shulkin is currently the CEO of Shulkin Solutions a company that provides solutions for a rapidly moving
health care system. And his recently published book which were going to spend a lot of time talking about. Is
titled: It shouldn't be this heart to serve your country our Broken Government and the Plight of Veterans and
it's an amazing book and I highly recommend it. Well ,Welcome Dr. Shulkin and I'm just so honored to have
you here.
Dr. David Shulkin (4m 44s):
I'm glad to be with you.
Dr. Anthony Orsini (4m 45s):
So I've been a huge fan and we have a few things in common first, I'm a graduate of Philadelphia college of
osteopathic medicine and you graduated medical college of Philadelphia, which is really write down the road.
And then it reading your bio,, You've spent some time at Pennsylvania hospital, university of Pennsylvania,
Drexel temple MCP. And then I also did my residency and fellowship at Thomas Jefferson, which I think you
have some ties to also is that correct?
Dr. David Shulkin (5m 29s):
Yes, that's correct.
Dr. Anthony Orsini (5m 23s):
So after starting my career at NYU, I went to Morristown medical center in 2001 and stayed there til 2014.
And I believe you were there from 2010 to 2015, is that correct?
Dr. David Shulkin (5m 28s):
Yes, that's correct.
Dr. Anthony Orsini (5m 25s):
And we met once or twice. I'm sure you don't remember, but I do.And because I'm a real student of
communication, the day that I met you and I knew you were the president of the hospital, I immediately felt
that the word I thought about you was really genuine. You were very down to earth. You were extremely
friendly. You were very engaging. I don't know if you remember, but we talked very briefly about the breaking
bad news program that I was bringing to the residents there. And I really just wanted to say, I really
appreciate it, but I, there was a down to earth kind of genuine likability to you and I that's what really stands
out.
Dr. Anthony Orsini (6m 3s):
So it was really, really very happy. I thought, well, Dr. Shulkin is not going to come on my podcast, but you
know, let me give it a try. He probably doesn't remember me, but I want to say, thank you because I reached
out to you, you got back to me in less than an hour and said sure. And I was like, wow, that's amazing site
again. Don't want to say thank you.
Dr. David Shulkin (6m 22s):
I'm glad to do it.
Dr. Anthony Orsini (6m 23s):
I've got a lot of questions and I'll try to honor your time. But my first question is you've done a lot of medicine.
You finish your training, you were a practicing internist. Then even when you're at the VA are, you still kept
seeing patients. And we all go into different avenues in medicine. Some people go into private practice,
some people who go into academics, other people go in to leadership. What made you take that path from
the very beginning? Because you took that fellowship and economics right away. So was there something
that you do you always want us to do that led you into the leadership role?
Dr. David Shulkin (6m 57s):
No. I think that I gave them what I advise people who've come and ask me for a career advice is I just
followed my instincts and followed my curiosity and allowed myself to explore areas that seemed both
interesting and meaningful to me. And I can't say that there was a clear path when I did it. Today physicians
or being involved in management or executive positions is certainly increasingly common.
Dr. David Shulkin (7m 28s):
But ,when I finished my training, that was a very unheard of career path. Physician's just, didn't go into
management positions and my fellowship directors at the university of Pennsylvania, a very academic
program. I remember sat me down and said, listen, I hope the types of the things that you are working on in
publishing on the real world applications of economics to the practice of medicine and this new area of
understanding cost and quality in health care.
Dr. David Shulkin (8m 2s):
I hope you enjoy it. Because you should consider it a hobby, not a professional path. The only real
professional path that you should be pursuing is publications, research and academics. I remember
acknowledging that ut saying they may be right, but it really doesn't matter to me. What I'm interested in
doing is in applying my knowledge into the real world environment, I just followed my instincts and that led to
some very, very interesting opportunities for me.
Dr. Anthony Orsini (8m 35s):
And so you go down to a leadership role in your career is well documented, and we spoke about it and the
bio I'm gonna get right over two. Maybe, perhaps what's gonna be the most difficult question for you to
answer it. Maybe not. So you're a physician, your health care leader, former us secretary of the VA, that title
of this podcast is Difficult Conversations and in those three positions you've must have had a lot of Difficult
Conversations. What do you think is the most difficult conversation that you have had to have in any of those
roles?
Dr. Anthony Orsini (9m 5s):
And can you give anybody some advice about how to, is your approach to the same as you're approach
different and how did they do different in each different role that you played?
Dr. David Shulkin (9m 14s):
Well, I think the single most difficult conversations that I had were when I had to speak to family members,
wives, mothers, and fathers, of Veterans that either sacrificed their life or had taken their own lives through
suicide. And sitting down with people that clearly are not only deeply missing their loved one's, but
continuing to replay in their own mind if they could have done anything differently.
Dr. David Shulkin (9m 50s):
And knowing that this was in many ways of failure of a system that I had responsibility for. Clearly were the
most difficult conversations that I ever had to have.
Dr. Anthony Orsini (10m 2s):
I can't even imagine how difficult that is the premise of the whole podcast. And what I do is really that, you
know, as a neonatologist, having to tell someone that their baby died. And I talk about it in my book about a
conversation that I witnessed between a physician telling someone that their son had died and how badly
that went. And I always say that the most difficult conversation I have is telling somebody that your baby is
going to die or have continued developmental delay or a problem with that. And so there's a lot of
misconceptions on how to approach that.
Dr. Anthony Orsini (10m 36s):
And in medicine, I think we continue to train young physicians incorrectly. One of the things that they are
being told over and over again, this is about information. It's about provide as much information as possible
to the patient. And although that's important, I think the most important thing is to obtain that relationship and
show them that you care and that your with them. And I guess that's very similar to speaking to a family of a
Veteran who's passed away or any advice you can give?
Dr. David Shulkin (11m 4s):
Well, I think that most importantly, it's to create an environment where people that are suffering and have
something to say can be heard, and it's not about providing information or educating somebody about what
really happened. It's letting them explain to you what their experiences is and that it's very powerful. The
second thing I would say is, is that where there is a fault in the process, whether it was when I was running
private hospitals and I had to sit with families and explain that something happened in the hospital, a medical
error happened that led to the harm or death have a family member or whether it was as I was describing
before in the VA where the system let the veteran down.
Dr. David Shulkin (11m 59s):
I think saying that your sorry, and acknowledging that more could be done. And that part of the purpose of
the conversation is to figure out how this could never happen again, what we can do to prevent it. That's very
important. And I will tell you, I think these are very, very personal discussions. These are representing
institutions. These are people sitting down and talking about things. And so some of the families that I
described before that had lost sons Wives of veterans who were severely injured, even though I no longer
am the secretary of the VA, I maintain those relationships today.
Dr. David Shulkin (12m 45s):
They let me know about their life events. They let me know how things are going. We continue to
communicate because once you make that human connection, it's much more than just about a particular
institutional issue.
Dr. Anthony Orsini (13m 1s):
So you are a problem solver, that's one thing that comes through through your book, through your career
that, you know, it's clear from learning about your career, that you love a challenge you loved to problem
solve, and they have all these questions ready to ask, but I'm going off the questions a little bit, because I
really wanna know. So we have a problem in medical education training right now is that we're not spending
enough time training, medical students, training residents. And there are so many senior physicians who are
just not good at communicating. And I individually trained in role-playing over 5,000 doctors.
Dr. Anthony Orsini (13m 33s):
So far, both senior and young doctors, who are residents, what should we do? This is a problem. We have a
problem with communication. And I'm going to ask you about patient experience later, cause really what I
want to get into with you, but how can we fix that at the medical school level, at the residency level and get
rid of all these misconceptions? You know, I can't tell you how many young doctors told me that when I
asked them, how do you give bad news? Have you learned anything from this? And the, he said, yeah, well
that was a resident. I was told by a senior physician that giving bad news is, is like a bandaid or you just rip it
off and get outta there.
Dr. Anthony Orsini (14m 8s):
So this is a problem. As a problem solver, how do you think we can fix this?
Dr. David Shulkin (14m 12s):
Well, I think it should come as no surprise that this continues to be a problem because we continue to select
physicians to enter medical school in the same way. And that's based upon test taking and academic
performance. And there is no real serious consideration given to the attributes of what everyone hopes for,
from their doctor, which is humanity and the ability to experience empathy and to display that and to be able
to communicate effectively.
Dr. David Shulkin (14m 45s):
So if we continue to continue to select based on test taking abilities, we're going to continue to have
deficiencies in these types of people that are, are coming, are doctors in the future, but that it's not just who
you select. It's also the whole system of reinforcement while you were a medical students and a resident.
We reward on academic skills and in the case of residency often on the technical skills.
Dr. David Shulkin (15m 16s):
But unless somebody really crosses the line ethically or behaviorally, there really are no positive or negative
rewards for these types of attributes that you're talking about, about the ability to connect with people and
communicate effectively.
Dr. Anthony Orsini (15m 34s):
What I have found is that there is a real desire of physicians and nurses to want to learn, to communicate
that they are generally compassionate people, but that at a higher level, it's still not being placed and really
at the top of their concerns. In fact, when I came up with the breaking bad news program while I was at
NYU, it took me almost 10 years to convince someone, to let me start teaching the residents with his
improvisational roleplaying. And since then I've been doing it for 10 years. But I also think that we as a group
and I think that the patient experience thing has helped me a little more, but we really have to bring more to
the forefront communications.
Dr. Anthony Orsini (16m 13s):
When I round with residents, sometimes I'll ask them, did you call the mother? And they'll say yes, I called
the mom and gave her an update. And then I'll say to them, what'd you say, and you see their faces on
rounds. Like what do you mean? What did I say? Like, you know, I want to know word for word what you
said, what'd you talk about how long we are on the phone and by the end of the rotation, they start to get it
that it's not about just the word you say, but it's, it's how you say it. And I think as a healthcare system, we
need to bring communication. I'm hoping that in the small way of this podcast and the work I do with the
Orsini Way is kind of helping with that, but I think they generally appreciate it.
Dr. Anthony Orsini (16m 48s):
So I can talk about this all day, but let's move on because I really wanna talk about your book. I read it. It's
phenomenal. I'm sure that it's selling a lot of books and really want to talk about it. The first thing about your
book that was impressive to me was really the dedication. As soon as I read the dedication I I think that said
it all right. And you dedicated the book to the veterans and their families decide, this is why you went into
Washington in the first place. And I really felt that that was just a true statement.
Dr. Anthony Orsini (17m 19s):
And really if you go back, there were people that thought you were crazy to go into Government right.
Dr. David Shulkin (17m 24s):
All right. A lot of people,
Dr. Anthony Orsini (17m 27s):
As far as you found, it's not for the faint of heart, but you had a calling. I understand you're in the book. You
talk about your father or you grew up an army base in your father was a psychiatrist's in the army base. How
much do you think your father influenced you becoming a physician and then towards eventually wanted to
serve the VA?
Dr. David Shulkin (17m 46s):
Well, my dad was a psychiatrist and is probably smart enough to know that If he overtly you're directly tried
to influence me to do something I might of done the opposite not unlike many people and their adolescent's
making the decisions about what they might want to do. So I never felt any direct pressure or direction or
influence from either of my parents' in terms of what I wanted to do. They gave me the space to figure out
what I wanted to do. And you know, I appreciate that.
Dr. David Shulkin (18m 17s):
I don't think I had any particular commitment or, or a desire to help give back to our veterans. Then I would
hope or any other American. I think that the regular people that I talked to really do appreciate the sacrifice
that these men and women give for our country. It's the volunteer army. As, we all know with less than 1% of
people in this country serving. And they really do the work for the rest of us to allow us to lead the types of
lives that we are able to leave.
Dr. David Shulkin (18m 51s):
And so when I was called and asked if I could help, I was the CEO of a hospital, I said, how can I say no? I
believe that if I can help and give back. There was no doubt that I was going to do that.
Dr. Anthony Orsini (19m 6s):
And so you leave Morristown medical center where I was, you go head to serve for the VA has on their
Secretary. I think you're first day was February 15th, 2017. And you'll get there on your very first day. And at
the time the VA was going through difficult times. It was a, it talks about wait times and, and they were
receiving, as you say, in your book, the wrong kind of headlines. Can you tell us about on that first day, what
you realized you had up in front of you?
Dr. David Shulkin (19m 33s):
Yeah, we're actually talking about 2015 when I arrived. I was first contacted by the white house in 2014, in
2014 was what was called the wait time crisis, where Congress has exposed the fact that the VA had
hundreds and thousands of Veterans waiting for care and not able to get access. Some of them being
alleged of have been harmed or, or even died waiting for care. And that was a national story.
Dr. David Shulkin (20m 3s):
And I remember sitting there as a citizen reading about it, seeing it on TV in saying, this is really horrible. If
there's any group of the Americans that deserve better, that deserve, you know, the best that this country
can offer in terms of Healthcare it's our veterans and this shouldn't be happening. And I remember probably
saying what so many people say when they see headlines, they say, boy, I wish I could do something, but
not thinking that you rarely ever will have that chance. And then shortly afterwards, the white house called
me and I knew this was my chance.
Dr. David Shulkin (20m 35s):
And so that's, that's when I raised my hand to say that I would help. It took about 10 months to get through
the vetting process. The head of the VA healthcare called the under Secretary needs to be Senate
confirmed. The president is not going to announce a nominee unless they are absolutely sure that this is a
candidate that could get Senate confirmed. And so it was a very extensive vetting process. So I arrived at
the VA after my conformation in July of 2015 or about 11 months after the wait time crisis was first exposed
and the place I thought was in dramatic need of a plan to fix the wait time issues.
Dr. David Shulkin (21m 25s):
And that's immediately what I began to do. That was my focus to make sure that no veterans were waiting
for care or who had an urgent medical problem.
Dr. Anthony Orsini (21m 34s):
Do you fix it relatively quickly to talk about in your books, a stand down order? Or can you tell us more about
how you went about fixing that? Because it, it happened pretty quickly. I think anyway,
Dr. David Shulkin (21m 44s):
Important thing for me was to get a system in place that could prioritize which Veterans needed to be seen at
what time. Previously to my arrival, the VA treated all appointments at the same. So you could have a urgent
medical appointment or you could have a routine medical appointment and they would stay in the same
place in line. And so I immediately changed that so that we can identify those patients who has urgent
medical needs.
Dr. David Shulkin (22m 14s):
Once we did that, I called for what I named a national stand down order, where we stop what we're doing
across the entire country in the VA system. This is now, you know, several hundred thousand employees
working in the VA. And I just said, we will do nothing, but see those patients with urgent medical problems
there were 57,000 veterans waiting for an urgent medical problem, more than 30 days. And those 57,000
became the focus of the VA until we saw those patients.
Dr. David Shulkin (22m 49s):
Several days later, that list of 57,000 was down to less than 1000. We contacted all those patients. We had
seen them all and once I knew that we had taken care of the backlog of patients with urgent medical
problems. I knew that the only way to prevent that from ever building up again and repeating that terrible
problem would be to put in place same day appointments across the VA. So if you had an urgent medical
problem, you would know if you arrived at a VA, you will be seen that day they're would be no wait times.
Dr. David Shulkin (23m 26s):
And by December, 2016, as President Obama was thinking about his last month in office, I was able to say
that we had put in place same day appointments at every VA medical center across the country. And to
ensure that that would remain in place on that we'd be accountable for that I published or our wait times
publicly. And to this day, you can see the VA wait times on the public websites to see whether we're honoring
that commitment.
Dr. Anthony Orsini (24m 0s):
That's fantastic. And yes, and that ties into my patient experience. The question that I'm waiting to as in the
meantime, my next question is the difference. There were very few people, if any, or I don't know if he were
the only one who really worked in the Obama administration and the Trump administration. It really wasn't a
very common correct?
Dr. David Shulkin (24m 17s):
No, it was not. I was the only one in the Trump cabinet that would come from the Obama administration.
Dr. Anthony Orsini (24m 23s):
I thought in your book, you say I'm not an Obama guy. I'm not a Trump guy. I'm here for the veterans, but it
was a very different way that both the administration's when about things, can you tell us the differences and
how you were able to switch over to navigate through the, two different environments?
Dr. David Shulkin (24m 37s):
Well, I like to think that I didn't switch. I like to think that I had a game plan. I felt like I had found a formula for
how to begin to address the problems in the VA that had been there for decades that had spanned
administrations, Republican and Democrat. And that I was implementing a plan that not only, I believe I
made sense for veterans, but it was showing that it worked and whether it was a democratic president or a
republican president, that was the plan that was going to stick with.
Dr. David Shulkin (25m 13s):
And what I did much, you know, in line with my academic roots I had published those plans I wrote and their
new England journal, what my plan was to fix access I talked and gave talks, whether it's the national press
club or on television or an academic journals about what I was going to do and how I was gonna fix it. And I
stayed true to that plan. Now you work in the context of the environment and who your bosses in this case,
the President, and there were some things that were more difficult to get done in the Obama administration
than they were in the Trump administration.
Dr. David Shulkin (25m 53s):
And there were some things that were more difficult in the Trump administration than the Obama
administration, so that you would continually try to adjust. But the most important thing was not to deviate
from your principles and not to yield to political pressures, because I believe much like when I ran at a
hospital in the private sector, like Morristown medical center, I was there representing the patients. And this
is how I view things as a doctor first.
Dr. David Shulkin (26m 25s):
And you know, doctor's is, you know, you and I both took the Hippocratic oath. We will do no harm. I was not
willing to yield to political arguments or pressure and had the end result be that something happened, the
Veterans, that I didn't think was the right thing. And that ultimately led to me no longer being able to operate
in the Trump administration was a difference in political views about what the right thing to do for a Veterans
were. But I will say that during my time as Secretary in the Trump administration, we've got a lot done, the
ability of President Trump to allow me the freedom, to do things, to get stuff done and not be bogged down in
the traditional ways of doing things, allowed me to get huge improvements done in the VA.
Dr. David Shulkin (27m 20s):
We got 11 major bills, all with bipartisan support. There is no other agency in the government under the
Trump administration that had that type of bipartisan support that was able to get so much done through
Congress and the white house. So there were some positive things to it as well until of course there came a
time that it was no longer positive for me. And I knew that the right thing to do would be to stick to my
principles and ultimately, President Trump decided to make a change.
Dr. Anthony Orsini (27m 53s):
What about President Obama and President Trump went about things, as you said, very differently. One was
much more methodical. The other one shot from the hip and maybe made some mistakes somewhere in the
middle might be a perfect way of doing it. But you were able to that not adopt where you were able to
succeed, really to get things done in both the administration's, which is really a testament to you. And in your
book I was chuckling when you were describing your first meeting with President Trump were President
elect Trump, and you describe it in such detail.
Dr. Anthony Orsini (28m 23s):
And now that we've gotten to know president Trump on TV, it, you can certainly see exactly the way he just
moved around him and went so fast. And I thought that was just a funny, a funny story that you left there,
you had mentioned something about you being the new secretary, but when you left and you didn't even
know that he was going so fast, you didn't even really know if that's what he said, is that correct?
Dr. David Shulkin (28m 44s):
Yeah. President Trump likes to keep you sort of on edge and keep you guessing, you know, that's part of the
way that he does things. What I think is interesting is what I write about my book, what I experienced myself
at the time, very, very few people had insights into the way that President Trump operated. But if you take a
look at the experience that I had, that I've described in the book, not only from that initial meeting, but all the
way through all of my contacts with the president, til the very end where he tweeted me out of office, this
experience has now been repeated time and time and time again by other people who have come forth and
told her stories about their experience from working in the Trump administration.
Dr. David Shulkin (29m 32s):
So in some ways I think that the detail in which I had described things is so clearly now understood by many,
many people who have heard about these experiences. Now, many times over.
Dr. Anthony Orsini (29m 46s):
Absolutely. I want to switch over and talk about patient experience, reading about you and knowing you're a
little bit people have called you, the champion of patient experience, patient experience, the experience of
the VA. Those are all things that we're very, very important with you. And I believe when you were under
secretary, you and Secretary McDonald started Patient Experience Program at the VA. And by the way, I was
at a meeting, a conference last year at the Beryl Institute for a patient experience and patient experience
department for the VA gave a presentation.
Dr. Anthony Orsini (30m 20s):
And that the amazing things that they were doing was nothing short of remarkable. And I was so impressed
with what their doing, but patient experience is really very important. And the one thing that you did was we
decided that you were going to publish or make public, the patient experience scores for the VA. And that's
something that I feel very strongly about. My it's all the Delivery program that I give to many hospitals
concentrates just on communication skills. We've been able to improve patient experience scores
dramatically just by teaching doctors and nurses, how to communicate.
Dr. Anthony Orsini (30m 53s):
But I know that I know in a lot of hospitals, there's a lot of pushback to make public the patient experience
scores specifically by the physicians. And in fact, one hospital that I know they started doing it. And within
three months the physicians shut it down. How strongly do you feel that that's important and tells us how you
were able to start that patient experience? Program I was so impressed.
Dr. David Shulkin (31m 16s):
Yeah. Well, first of all, the reason why in every position I've held, whether it's been the CEO of the hospital or
Secretary, or Under Secretary at the VA in that I've always put down my white coat and my stethoscope and
go out and taken care of patients myself is not because I think that I'm God's gift to medicine or that there
aren't other doctors that could do as good or better job than me, but it really is because I've always felt that
that's what the job was.
Dr. David Shulkin (31m 48s):
If you are the leader of an organization, if you really have to understand the impact of your decisions and the
type of organization they were running. And the only way I knew how to do that, its to see how your
customers are experiencing are brought up. And so when I would be secretary of the VA and I would go see
patients, I get to see, how does the electronic health record work? How does it work to order medications or
labs? What are your coworkers attitudes like? What is the ability to get help when you need a consult?
Dr. David Shulkin (32m 20s):
What's the Patient telling you about the experience. And so that fundamentally kept me grounded in
understanding what my job is a leader was and what the patient experience was in terms of trying to put in
place the large program at the VA. A lot of that rycredit belongs toG Secretary McDonald was the CEO have
a large consumer product company before and becoming secretary. He had been CEO of Proctor and
Gamble for much of his career.
Dr. David Shulkin (32m 51s):
And so he came at it from a very consumer oriented point of view. I came at it from a very Dr Patient point of
view. That was a nice combination for us to be able to drive in improvement and the experience. And I would
just say for those that are in medicine, that resists That, you know, I think as doctors, we all understand that
physician's perspective that many physicians believe its more important to do the right thing medically and to
focus on the science, not necessarily on whether a patient likes you, but for those who don't really
understand why it's so important to be consumer focused in to understand the patient experience, I would
say, this is the reason why so many people medicine now complained that they've lost control of their
profession because this ultimately needs to be Healthcare needs to be a consumer driven system.
Dr. David Shulkin (33m 55s):
It needs to be a system that represents those things that matter most to patients. That's what is this about?
And if you don't understand the patient experience and you're not willing to be transparent about it, you're
never really going to participate in it. You are going to be continually sidelined off to be a technician. And a
ultimately this is why so many physicians are feeling burned out and looking to leave medicine because they
no longer feel that there are in control of the fields that they thought that they would be when they entered.
Dr. David Shulkin (34m 30s):
Right.
Dr. Anthony Orsini (34m 31s):
Awesome. I'm so happy. You said that because when I give my workshops, I tell physicians that when you
are able to form that relationship with the Patient, which is what patient experiences all about. And there was
a study at a university of Florida that showed you could form a relationship if you do it correctly with in 56
seconds with someone, by being a genuine person by sitting down. But then when you're able to form
relationships and you really make that connection with each and every one of your patients, you go home a
lot happier at the end of the day, I think, and you feel less like a factory worker and more like you've made a
difference, even if you practice good medicine.
Dr. Anthony Orsini (35m 4s):
And I saved a couple of lives that day, or cured a couple of babies, go home, knowing I really bonded with
that family. And, and it does decrease physician burnout. And in fact, next week I interviewed doctor Dike
Drummond, who's an expert on the physician burnout when we talk about this, but I don't think physicians or
hospital administrators understand how important it is to the well being of the patient, but also the wellbeing
of the doctor or the nurse and the patient experience as tied to better outcomes, right? Better, better patient
compliance.
Dr. Anthony Orsini (35m 34s):
And it seems, although a lot of hospital administrators are saying it's number one, it's a difficult thing to crack
would you agree?
Dr. David Shulkin (35m 41s):
He would agree. And I, know, at least for me, when I was a resident, I injured my back in a water skiing
incident where I needed surgery at my own hospital, that I was training at it and I got to experience the
patient experience personally and see what it was like to deal with a surgeon who was technically very good
and had the worst bedside manner I could imagine. He would check on me, do his postdoc rounds from the
doorway.
Dr. David Shulkin (36m 13s):
He just didn't even want to step into the room because of, probably in his mind he would commit him two a
longer conversation or, or having to answer any questions or to interact. And so, you know, having that
experience and looking at things through the eyes of a patient, I think changes you and changes your
perspective about being a doctor.
Dr. Anthony Orsini (36m 36s):
I agree it gets better for everyone. So I know you have a hard stop coming up soon. We only have a few
minutes left. I want to get a, just a comment about Telemedicine real quickly during COVID crisis, because
I'm all about the patient experience and making that connection. You brought telemedicine to the VA where
you at least, made it more common and that helped a lot. Telemedicine is great. It's convenient. It's difficult
too, to form that human interaction with Telemedicine. In fact, we are doing some training programs now for
some hospitals to help them with their communication skills so that they can bond a little bit through
telemedicine.
Dr. Anthony Orsini (37m 10s):
Do you think that telemedicine is here at this level to stay, or do you think that if we keep doing more and
more Telemedicine we're gonna miss that, that relationship?
Dr. David Shulkin (37m 16s):
Well I think there's a couple answers to the question. I think, you know, if you're looking at the number of
telemedicine visits across the country and you were looking at it from a numbers point of view, I think that we
will see a decline in the number of telehealth visits from the high point where people just weren't able to go
into the doctor's office or weren't able to you going to a hospital to get care, but it's clearly gonna stay way
above were.
Dr. David Shulkin (37m 53s):
It was pretty COVID. I think the changes in reimbursement, the changes in regulations, the changes in the
patient experience, people would never accessed or tried to telehealth. I think fundamentally will change the
way that people will utilize telehealth forever. And so were gonna see a much higher level than pre COVID,
but maybe not as high as what we're seeing right now.
Dr. Anthony Orsini (38m 20s):
Do you think that'll be a good thing?
Dr. David Shulkin (38m 21s):
Well, I think telehealth is an excellent thing that what we need to, and we did this at the VA utilize telehealth
appropriately. It can provide care in the home and it can provide access to people that frankly have had the
challenge in getting transportation. We can provide easier access for the doctor's. In some cases can be
more therapeutic, like in telebehavioral health. They think it's easier in some cases for patients to express
themselves over a video, then if they were having to sit in front of the person.
Dr. David Shulkin (38m 58s):
But what I was gonna say is I think when I say that were gonna come down to a certain level and stabilize
that's with what we think about as telemedicine Today I don't think we're going to think we're at a very early
stage we're tele medicine for most people means a tele visit a video visit across a phone. And I think that
this has just the very early stage of where we're going in virtual care. We have to now transition from just
using a video, to have a talk with the doctor and a patient to one that really adds much more significant
value.
Dr. David Shulkin (39m 39s):
So it no longer is just an episodic care, but it's more continuous care. One where we can use tools like
artificial intelligence to improve the way that we make decisions. One that provides the doctor and the patient
more information that they can share together, actually sharing the chart together, discussing and showing
pictures together so that you can actually improve the communication and a patient experience. And so I
think we're just at the very early stages of how technology has been impact our ability to talk in the future.
Dr. David Shulkin (40m 16s):
But I'm very optimistic that remote monitoring and advances in the way that we use this technology are going
to dramatically improve the doctor patient experience.
Dr. Anthony Orsini (40m 28s):
I think we can do the help those people have difficulty getting through the doctors is certainly will be a good
thing. One final question, Dr. Shulkin you've had so many accomplishments in your life through the private or
public sector career wise. What are you most proud of? You think?
Dr. David Shulkin (40m 43s):
I think that there is no doubt that my answer to that are the people that I had a chance to impact their career.
And one of the things that's always been important to me as been in being able to be a mentor and then
training future leaders in the Country because when you do a job and you get something done, you feel
proud about that. But when you influence somebody life who, who goes on and creates their own impact on
the world, that's a force multiplier.
Dr. David Shulkin (41m 19s):
And so I'm most proud of those people that I had an influence on their life who are now on doing great things
and leading organizations of their own. And to me, that's going to be a lasting impact.
Dr. Anthony Orsini (41m 31s):
It can really relate to that, when I do my training of other physicians and I teach a young physician how to
communicate and how to build relationships, I know that that Physician is likely going to have about 200,000
patient interactions in their life. And if I can have a small part and how they treat their patients, it just makes
my life meaningful and it gets me excited and it makes me want to do even more. So I think that's a fantastic
answer. My mother always used to tell me, Dr. Shulkin always leave the place better than you found it in one
thing that comes clear of in reading your bio and knowing you and reading your book is that you certainly do
that.
Dr. Anthony Orsini (42m 10s):
I want to thank you on behalf of everyone on behalf of the Veterans for all of the work that you've done, you
truly make every place better than you found it. And so thank you so much for that .
Dr. David Shulkin (42m 21s):
Great. Thank you.
Dr. Anthony Orsini (42m 22s):
If somebody wants to get in touch with you, you just do it through Shulkin solutions?
Dr. David Shulkin (42m 26s):
I would love for people to follow me on twitter @davidshulkin and I do have a professional website
shulkinsolutions .com.
Dr. Anthony Orsini (42m 26s):
Fantastic. Thank you so much. And I will share the links with you also on our notes. If you enjoy this
podcast, please subscribe and we are available on Apple, Spotify in other formats or a Google podcast. If
you need to find more about the Orsini Way please contact me at www.theorsiniway.com Dr so could I know
you had to go, thank you so much. I am very honored to have you on this podcast and I hope we can speak
again soon.
Dr. David Shulkin (42m 59s):
Great, thanks. Take care. Thank you.
Announcer (43m 2s):
If you enjoyed this podcast, please hit the subscribe button and leave a comment and review to contact Dr
Orsini and his team, or to suggest guests for a future podcast. Visit us at Orsini Way.com.